What if your science could be, well, AMAZING? Well, it can be, thanks to these DVDs.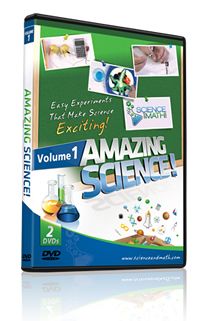 Amazing Science Volume 1 is a two DVD set by
Science and Math.Com
of short and fun science experiments using everyday materials that you probably already have on hand to teach science fundamentals.
The experiments covered include: Color Changing Milk, Floating Eggs, Egg in a Bottle, Keep Paper Dry Underwater, Exploring Air Pressure, Dry Ice Bubbles, Build a Lemon Battery, Balloon in a Candle Flame, Inverted Cup of Water, Ocean in a Bottle, Candle Suction Power, Build a Motor with Lights, Amazing Magnetic Force, Simple Lava Lamp, Lift an Ice Cube with String, Invisible Ink, Unburnable Money, Density Tower, Matchstick Speedboat, Soda Can Fizz, Reversing an Image with Water, and Build a Motor #2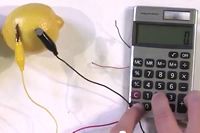 The pros: The DVDs are nicely divided so that each experiment is a chapter-so you can do as many or as few as you want to do at a time. Each experiment is well explained and the camera work is very good-allowing you to see everything you need to see to understand the experiment. Each experiment has a "wow" factor to it that makes it interesting and draws kids into the science that makes the experiment possible. Our favorites? The Amazing Magnetic Force (which we did not try because we did not have one of the main supplies, but which was awesome just to see on the video) and the Color Changing Milk. In fact, I think we could have gone through a whole gallon of milk on that one. Here are some pictures:
The cons: It seems like these experiments were all produced as individual segments for some other venue before they were put into this video, and the presenter is in different clothes for each one, which was a bit strange. In fact, each one begins with him introducing himself and welcoming you to Math and Science.Com, which is a tad repetitive if you watch a couple of them at a time. But that's just me being picky. The science experiments themselves seemed fun and easy to perform.
The bottom line: Amazing Science has awakened a passion for science in my 7 year old. She literally begs to watch the video and can't wait to try each experiment. WOW! Those are words I never thought I'd say about her. And while my oldest dismissed it as "boring", he was right in the kitchen with them while they were turning milk into tie-dye works of art. I like these videos, and I think they awaken an interest in science in children by making it fun. Generally, after each experiment, my kids would beg to go replicate it. That's so inspiring to see (and hear).
You can order
Amazing Science
for $17.99 as a download or buy the DVD for $19.95. To see what other members of the TOS Crew had to say, go
HERE
.
Legal Disclaimer: As a member of the TOS Crew, I received a copy of Amazing Science Volume 1 for free for the purpose of giving my honest review. Those DVDs were the only compensation I received.