Generally, I have a hate-hate relationship with technology. When I walk into the room, computers break, and cell phones lose their signal. It's bad. And because of that, I have a dislike of "e products", since they require technology to work.
But then I got a Kindle Fire for my birthday. And granted, my first one had a hopeless glitch and stopped working after one day, but my second one and I are warming up to each other. I'm also warming up to the fact that technology is the wave of the future for education. More and more curriculum is available via "e product", and that number is growing by leaps and bounds each month. So, with my new e-reader in hand, I decided to embrace the future!
Heritage History
is a "living books" based history curriculum company. They exclusively offer books published before 1923, and offer them in collections that are related to a specific area and time, such as the British Middle Ages that we reviewed.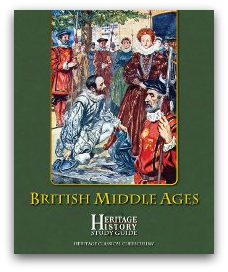 The British Middle Ages features 55 books, 60+ maps, teaching aids, and a study guide-all on one CD. Then you pop that CD into your computer, and can fully use any of the books or resources from there. OR, you can load them onto the e-reader of your choice. Every file is in PDF and epub and mobi, so they will work on any device. Although as a company they began by just offering collections of books pulled together by time period, they have expanded most of their offerings to include the study materials (maps, timelines, etc.) and a suggested, very loose schedule for using the materials as potentially a full history curriculum. While you can purchase the study guide pre-printed separately, the entire contents of it are included on the actual CD, so you can just print what you want to print from there for free if you have access to a printer.
Included on each CD are several "core" books that can be used to provide background information into each time period and locale, and then a large collection of "recommended reading" adds detail. All these books are told in narrative form. They are living books, not stuffy textbooks. As the Heritage History folks say,
"The problem is that comprehensive histories—no matter how well written—introduce dozens of different characters and move along at pace that requires students to remember a great many facts in short order. Although some students can absorb information quickly and may complete a comprehensive history in a short time, others prefer a slower approach, and in most cases, comprehensive histories are not "favorite" history books."
The books are also color coded by suggested level (elementary, middle, high school) and students are encouraged to use core books at or even below grade level because, "
History does not have to be challenging to be worthwhile, and students learn best when they are genuinely engaged."
The pros: These CDs hold a treasure of information. Especially the study guide information that allows you to augment the books with little or no effort. And with some work on the homeschool instructor's part to put together a daily schedule, these CDs can be a complete curriculum. The fact that they are formatted in 3 different ways means they are completely usable no matter what device you have. And the price- $24.99- whether you use it as a full curriculum or just as a supplement to another history curriculum, the price is a bargain.
The cons: If you want a curriculum with lots of paperwork, this is not the full curriculum for you. If you like everything planned out for you day to day, this is not the full curriculum for you. If you want a curriculum that focuses on ALL the cultures of a certain time period, this is really not the full curriculum for you. But that doesn't at all mean that the CDs wouldn't still be of value to you as a supplement to whatever other curriculum you chose to use.
The bottom line: I am a history buff, but I wasn't always. I too used to hate history. It wasn't until a special teacher decided to show me that history is really a collection of interesting stories that I developed a love for history that shaped my whole future. Now, using living books like the ones on these CDs, I hope to instill that love info my children as well. They have enjoyed several of these stories so far, and in the fall when we get to the Middle Ages, I know they will enjoy even more.
To order any of these Heritage History CDs, go
HERE
. To see what other members of the Crew had to say, go to the
Homeschool Crew blog
.
Legal Disclaimer: As a member of the TOS Crew, I received a copy of the British Middle Ages CD for free. This CD is the only compensation I received and all opinions expressed are entirely my own.