We Choose Virtues
is a company created by Heather McMillan out of her desire to help children reach their potential. She created a list of 12 character defining virtues and catchphrases to go with them. Each one also has an adorable character to go with it, such as Hat Matt or Cake Jake whose short stories help reinforce the virtue. Each virtue has an affirmative statement (i.e. I am Helpful) and the defining catchphrase (I find things that need to be done and I do them!). There is also a negative example provided (I am NOT...selfish, lazy, or unwilling to serve, and I don't have to be asked!). All this information is available in a variety of tools that help to reinforce the lessons. The system works like this: You introduce a virtue and demonstrate it, they memorize the catchphrase, they learn the antonyms, and you catch them demonstrating the virtue...or not. We Choose Virtues offers many, many tools to accomplish these goals. Below are some of the tools I received.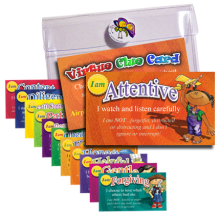 These cards are packaged in a small plastic pocket making them portable for use anywhere and anytime. Each card focuses on one virtue and contains the character, virtue, catchphrase and antonym on one side, and a challenge (For the "Helpful" card it is: Choose to find extra things that need to be done, and do them without needing to be asked!) on the other. They are currently on sale for 5.99, which is 25% off.
To me, this handbook is essential. Without it, I have cute little cards in a pocket. With it, I have ideas about HOW to use the cards to train my children up using the virtues I think are important to make them into people other people want to be around. But more importantly, I can use this virtue training to shape them into people whose behavior honors God. It is $4.99 for a downloadable version or $19.99 for a hardcopy.
The coloring book is downloadable and features one page for each virtue's character, as well as a few pages of activities. It is $3.00.
The assessment is free and can be used by each child to self-assess how they are doing with each virtue before training begins and then after using the system.
Because We Choose Virtues's products are not just geared toward homeschoolers, kits are available for schools, churches, families, parents, and homeschoolers. Most products are also available in two versions-one faith based containing scripture and one not.
The pros: These products are simple yet effective. As I said before, the Teacher's Manual is essential in my opinion. The catchphrases work, as do the negative examples. The illustrations of the characters are just darling.
The cons: I would not encourage you to take the cheap way out and order only the products I wrote about unless you are innately creative in coming up with the teaching process and application on your own. I think the parent or teacher cards have a more complete plan for implementation that, combined with the teacher's manual, would give you more "bang for the buck".
The bottom line: I don't think any one will argue the importance of things like helpfulness, kindness, diligence, persistence, gentleness, contentedness, etc. But knowing they are important and knowing how to train children to BE them are two different things. I think We Choose Virtues has a wonderful way to do just that.
To see all the products available from We Choose Virtues, go
HERE
. To see what other members of the TOS Crew had to say, go
HERE
.
Legal Disclaimer: As a member of the TOS Crew, I received a hard copy of the virtue cards, as well as downloads of the coloring book, teacher's manual, and assessment for free. Those products were necessary to write this review, and are the only compensation I received.