I'd like to introduce you to my new best friend...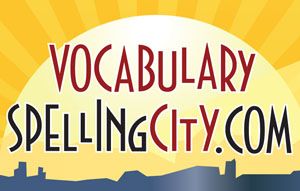 Vocabulary Spelling City
is a free, online, educational spelling and vocabulary website. Parents or teachers can enter individualize lists for each child, and then students can click "teach me" to learn how to spell the word and hear it used in a sentence. Then they can play games to learn how to practice spelling the words. They can also take a spelling test on the word list. You can print each list, and even generate a handwriting worksheet for the words. For a yearly fee of $29.99 a year for home use (up to 5 students) or $49.99 for classroom use, you can upgrade to a premium membership. The difference between the two memberships is listed on the chart below.
The Schoolhouse Review Crew was given the premium membership to try out, and I can tell you that many of the premium games and learning features have to do with the vocabulary activities. Also, the premium membership offers MUCH more in the way of customizing lists and assigning activities to one student or multiple students. Plus, there are many premium features that involve tracking performance of each student.
Below, you can see a report that lets me know how my students did on completing their assignments for the week:
And this picture shows a sample word list I created. Green activities are free, pink come with the premium membership. 

The pros: Vocabulary Spelling City can be used for any grade level. They have tons of word lists already in their system that you can use. Things like dolch lists, homophones, compound words, and state capitals, just to name a few. And you can make your own list to match any words you want your children to learn across the curriculum. Words are pronounced for the student by a real human voice, and spelling tests are given by that voice reading each word aloud for them to type in. The games are fun, and my children found great challenge in seeing which of them could get the highest score on their favorites like letter drop and hang mouse. I love the benefits of the premium membership, especially the vocabulary games and the ability to assign the same list to multiple students and give them daily tasks to accomplish with each list.
The cons: While the site will automatically come up with the definitions for a word, I can't find a way to attach more than one meaning to a word. So you can teach ONE definition, but not all the meanings of a word. I wish I could assign more than one meaning, or that there were more games that would teach multiple meanings and/or pronunciations for the same word. Given all that the site does, it's not a deal buster, but
would
make the vocabulary aspect of the site even better.
The bottom line: I have a spelling curriculum that I love, BUT while that's great for teaching rules, I've always felt my kids were lacking in the whole "learn how to spell a list of words and learn what they mean" experience. I think doing that helps to build your functional vocabulary, which could only serve you well in the future. Now we can do our normal spelling lessons, AND they can do their spelling lists every week. They LOVE the games, and really get very competitive about it. And from a cost effective perspective, paying for the premium membership is WAY cheaper than buying grade appropriate vocabulary workbooks for each of my kids, and WAY more fun for them. We will definitely continue to use this every week.
To check out Vocabulary Spelling City, you can go to the
Spelling City website
. Basic membership is free, and premium membership is $29.99 a year. To see what other members of the Schoolhouse Review Crew had to say, check out the
Crew Blog
.
Legal Disclaimer: As a member of the Schoolhouse Review Crew, I received a free year's premium membership to Vocabulary Spelling City in exchange for my honest review. All opinions expressed are my own.