There is not a thing I don't love about games. In fact, for years, we had "game night" with friends...until we each ended up with so many kids that "game night" started requiring more logistical planning than any of us had the mental strength to tackle. But our family still plays games and my kids would rather play a game than almost anything else. And that is the reason I jumped at the chance to review
Tri-Cross
.
Tri-Cross is a strategy and critical thinking game along the lines of checkers and chess. It can be played by 2-4 players ages 8 and up (although of course my 6 year old had to try). Like any strategy game, there are rules to learn and follow, and the Games for Competitors folks (that make Tri-Cross) have even created a series of
video tutorials
that make learning those rules painless, thereby getting you understanding and playing the game very quickly. There are a few variations to the game that allow you to vary the difficulty of play and "change it up" a bit. It has won multiple awards, some of which you can see above. And for the eco-conscience OR those who like to take games on the road, there is a "Eco" version of the game featuring an organic cotton board and travel pouch as you can see in the photo below.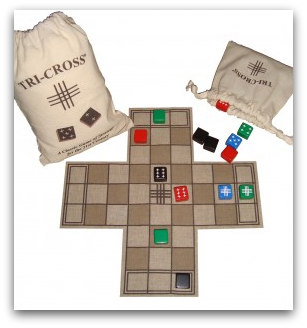 The pros: Proving that this game can be played across the ages, my 10 year old soundly trounced me in the first game we played! The game plays quickly, which is HUGE to me. It also requires a lot of planning and consideration, but it's not at all laborious like some strategy games are. Like chess and checkers, it reinforces the idea that sometimes you have to sacrifice a few pieces to win in the end. The variations available allow you flexibility to level the playing field if you have some kids who are stronger players than others.
The cons: None with the game, just with me. I'm going to admit a failing...I don't like to sacrifice pieces...I don't like to have my pieces removed by my competitor...and this game has really pushed me to "be okay" with watching my pieces dwindle but still stay in the game. Because as much as I don't like to have my pieces jumped, I do like Tri-Cross, and so does my 10 year old (in particular) and so I'm learning to "get over it". (Below is my brother-who does not share my "issues"- playing with my son.)
The Bottom Line: Tri-Cross is fun, educational, and challenging. It's one of those games that you can break out at family gatherings as something to bridge the generation gap, or take with you on vacation, or just play a few rounds whenever the spirit moves you. If it had been around when my grandfather was alive, I KNOW he would have loved it. He always valued games that brought people together and taught them to think critically while they were having fun. Tri-Cross fever is spreading. Who knows, as this game gains in popularity, maybe you or your children can play in a Tri-Cross tournament!
You can buy Tri-Cross from the
Games for Competitors
website for $24.95 for the regular version or $19.95 for the Eco-version. It's also available at some specialty toy stores across the country. Check that list
HERE
. To see what other members of the TOS Crew had to say, go
HERE
.
Legal Disclaimer: As a member of the TOS Crew, I received two copies of Tri-Cross to review- one classic board version and one eco-version. Those games were the only compensation I received for my review.