I've come to realize I am definitely in the "delayed academics" camp- especially when it comes to formal grammar training. But when you suddenly find yourself with a high schooler who has a minimal grasp on grammar rules, you realize you might have delayed it a bit TOO far! Enter Time4Writing.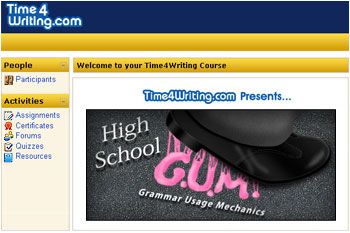 Time4Writing
is a site that offers writing instruction for elementary, middle, and high school students. Each group has 3 levels of classes- beginning, intermediate, and advanced. If you aren't sure which one is best for your student, there is an
online placement questionnaire
you can take. For our review, my eldest son and I took a look at one of the high school beginner level classes called Grammar, Usage, and Mechanics.
According to Time4Writing's website:
This eight-week course covers the technical areas of writing that high school students need to master before moving on to paragraphs and then essays, including:
•Correctly identifying the parts of a sentence
•Understanding complex sentences
•Learning subject-verb agreement
•Differentiating between plural and possessive nouns
•Using pronouns, adjectives and adverbs in sentences
•Identifying and spelling words that often confuse writers
•Correctly using commas, semicolons, and other punctuation
•Proofreading their writing for errors
Setting up your student is easy, and once your class is chosen and paid for, students can begin fairly quickly. Each class has a real, live teacher who is there to answer questions and grade assignments. Scott's teacher was Ms. Leslie. For many of his assignments, there was some basic instruction to read, followed by about 10 questions to answer about the topic that the instruction covered. Those questions can be reattempted over and over until you are happy with your score. About once a week, there is a writing assignment that you submit to your teacher. In our experience, those received a final grade, and no "do overs" were allowed, but my son also scored a 95% or better on each assignment. Each course is designed to be 8 weeks long, although an accelerated schedule is also provided. The cost per 8 week course is $99.
Our experience: This was our first foray into virtual education, and there was a bit of a learning curve. Jumping in at the high school level, we were not familiar with the writing/grammar rules Time4Writing follows in the same way you would be had you gone through something year after year. Think of the "oxford comma" for example. Do you use it or not? Either way is "acceptable" these days, so sometimes grammar rules aren't really rules after all. We encountered that twice. Both times points were deducted and I e-mailed the teacher about the broken "rule" and asked for clarification. We did receive her explanation for why things were scored as they were, but points were not restored and no offer was extended to redo the assignment. That's fine, really, because it is also the way it is in many "building school" settings, but it was a learning process. Overall, I sat with my son as he did his first few assignments, but gradually was able to allow him to work more independently, although I still check over his assignments for submission.
The pros: It is nice to have an 8 week intensive on some of the grammar, usage, and mechanics skills I might not have covered very well. I like that there is a "real" teacher out there checking the work, and I think that would be even more beneficial for creative writing based classes. Lessons are short, as are assignments. I can see exactly what my child has done and what he still has to cover in the class. We heard back from Scott's teacher promptly- never more than 24 hours unless it was a weekend.
The cons: I don't like that each 8 week course comes with only 8 weeks of access. That means you can't get behind at all, or you have to pay $49 to extend your class by 4 weeks. We are right on target to complete the course in 8 weeks, but I do wish there was a little "wiggle room", especially since unavoidable things can happen, like the tropical storm currently off the coast of my state. I also wonder if the lessons might not be a bit too short and lacking depth, but time will tell on that one. My biggest con though is the price. At $99 per class, it would cost you $400 for a year of instruction. And this is only good for one child and only for one specific 8 week period. And it's only one component of what would constitute a full curriculum- it's not even your entire language arts.
The bottom line: Am I glad we are doing this? Yes. I think my son has been introduced to a lot of things I have not specifically taught over the years. Have we learned other things as well? Yes, we've learned some important lessons about how online classes work, and both their strengths and weaknesses. Will we continue? We will absolutely finish out this class! Is it "worth it" financially? That, I don't know.
To check out Time4Writing, their classes, and their free online resources, go to
Time4Writing.com
. To see what other members of the Schoolhouse Review Crew had to say, go to the
Review Crew blog
. Many of them reviewed other levels of Time4Writing including elementary and middle school classes.
Legal disclaimer: I received one 8 week online class for free from Time4Writing for the purpose of giving my honest review. All opinions expressed are my own.