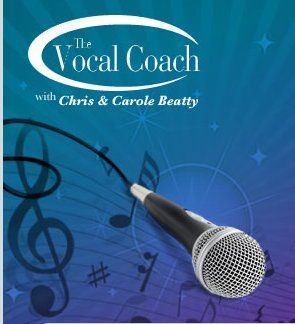 I've been a singer all my life...but I've never had any formal voice training. And I don't have an amazing voice by any means. Mostly, I have a decent harmony voice, and mostly I sing in a choir or as part of a worship team. I'd love for it to be more than that. So I was very excited to have the chance to review The Vocal Coach Singer.
The
Vocal Coach Singer
is a CD or mp3 based program for voice lessons. It is appropriate for ages middle school to adult. Your "coaches" are Chris and Carole Beatty, who have over 40 years of experience teaching people to sing. Vocal Coach Singer teaches the fundamentals needed to become an accomplished singer--things like how to expand your range, or how to control your voice, or even proper exercises for your voice. How does it do that? Well, here are all the elements the program contains: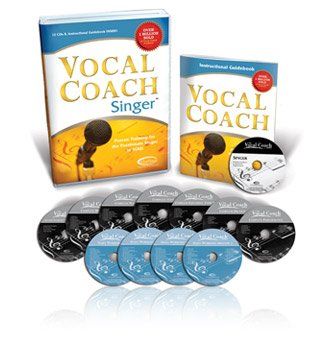 Vocal Coach Singer Includes:

7 Training CDs:

Getting Started
Complete Breathing
Complete Warm-Up
Complete Tone
Complete Expanding Your Range
Complete Diction
Complete Performance

4 Workout CDs:

Daily Workout High Voice 1 & 2
Daily Workout Medium/Low Voice 1 & 2

Plus these great educational tools:

Guidebook – Full-size Instructional Guidebook to Ensure Success
Printable Lead Sheets – each exercise in our course, plus track lists
Personal Singer's Journal (Getting Started Journal & Workout Journal) to Track Your Progress
Vocal Coach Song Evaluation – Evaluation form to enable you to make more intelligent song selections
You can also get the Vocal Coach Singer as a downloadable mp3.
The pros: I love their focus on "Practice makes permanent." So many times we hear practice makes perfect, but it doesn't. PERFECT practice makes perfect. Any practice will make something permanent...only correct practice makes it correctly permanent. To achieve correct practice, lessons are relatively short, exercises build one upon each other, and journaling is part of the process so you can record what works for you and what doesn't. I also love their heart--the focus on singing better to worship God better--which can be seen on their website as you read through the different resources there. And as a homeschooler, I really appreciate that they have an
entire page on the web
devoted to answering homeschool f.a.q.s about teaching voice and suggesting a course of study to use with their programs. The program is WAY more affordable than voice lessons, and you can repeat lessons over and over. Plus, there is no performance anxiety since you aren't singing for a "real person"--at least not one who is there with you.
The cons: Without a real live person there with you, you can't ever be sure you are really doing it right because no one is listening to you but you. There is no feedback for your singing-unless you are singing in another venue and someone offers you some critique. And there isn't really a good "lesson plan" to follow. If you went to voice lessons, the teacher would give you assignments to work on week by week. Because this is the whole program, you have ALL the information upfront, and not much help knowing how much you should tackle at one time, and what pace you should progress at.
The bottom line:
The Vocal Coach
is $199.99 for the CD set or $99.99 for the mp3 downloads (which play in iTunes- or at least that's how I played them). I think it's totally worth it even despite the cons. That price is like 2 months of in person voice lessons, and you get SO much more than 2 months worth of material. There is definitely enough here to make it worth your while and your money. I can already see some improvement for both myself and my daughter, and we've only scratched the surface of what the program offers.
The Vocal Coach also offers in person lessons, internet consultations, choral warm ups, some teaching DVDs, and a product aimed toward younger singers, which some of my Crewmates received to review. To see what other members of the Crew had to say, go to the
Schoolhouse Review Crew blog
.
Legal Disclaimer: I received the mp3 downloads of Vocal Coach Singer for the purpose of giving my honest review. All opinions expressed are my own.