We are a game loving, and game playing, family. So when one of the very first products for the TOS Crew to review this year turned out to be a game, you can bet I jumped at the opportunity to check it out!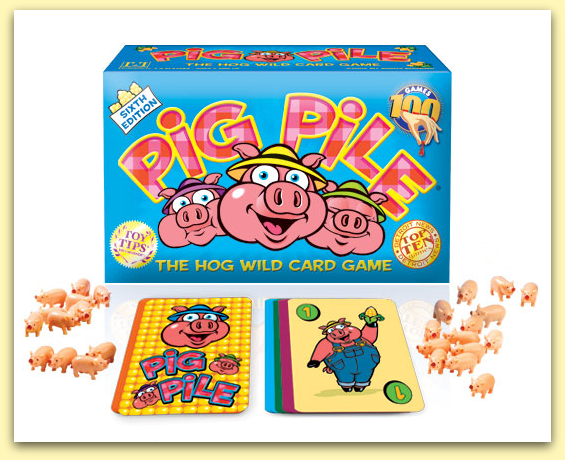 Pig Pile, by
R & R Games
, is a card game for ages 7 and up. It can be played with 3-6 players. The cards are numbered 1-12, and the goal is to be the first player to get rid of all your cards. But watch out! If you can't play a card that is the same number or higher than the one on the top of the pile, you have to pick up the WHOLE pig pile! And just when you think you're finally on the verge of winning, your "slop" cards may just do you in. And with special cards like "Hog Wild", "Ewe-Turn", and "Hog Wash", the play is never predictable.
The pros: This award winning game is really fun to play. And once they know how to play, children can even play by themselves without adult help. Some strategy is involved with choosing the best card to play, but enough is left to chance that the playing field is leveled even if you are playing with a vast range of ages. And the pigs are very, very cute, as are the cards themselves, and the packaging is very colorful and sturdy. And while the game says "Ages 7 and up", my 6 year old plays just fine.
The cons: For a children's game, this has a complicated set-up and some complicated rules! And because of all the variables, even after playing it many times, we still encounter situations where we aren't sure what the "rule" is because it is not specifically explained in the rule book. (For example, in this game you have cards in your hand, but also 3 cards face up in front of you and 3 cards face down that make your "slop". If you play the last card in your hand-say it's a 7, and there is NO more draw pile, the rules are unclear as to whether you can immediately play from your face up cards-if, in this case, you have say a 7 or a Hog Wild card, or if playing the last card in your hand ended your turn.) So we just make our own rule for that situation and move on. And really, I'm fine with that, except that if you were to play it with someone else who also owns Pig Pile, you may each have variations on how to play because of the unexplained scenarios. And my other con would be that the cute little pigs are not used enough! The pigs are meant to be used after you complete a "round" of play, with 3 going to the winner, 2 to 2nd place, and 1 to each player except the loser. Unfortunately, a "round" is really a whole game. In theory, you play one "round" for each player, up to 5 rounds. But in reality, we find that our "rounds" take so long that even though they really like the game, no one wants to play 4 more rounds, so we hardly use the pigs at all.
The bottom line: I wish they would rewrite the rules and make them clearer to cover all the different contingencies that the different piles of cards bring up. And I wish the game used the little piggies more. But it is a really fun game, and my kids do want to play it over and over. We just make up our own rules whenever we can't get clear direction from the real rule book.
Pig Pile is available for $15.95
HERE
. But for readers of the TOS Crew blogs, R & R Games is offering a 20% discount. Just enter the coupon code CREW20 to receive the discount now through December 31st, 2011. To see what other members of the TOS Crew had to say about this game and another one also from R & R, go
HERE
.
Legal Disclaimer: As a member of the TOS Crew, I received a free copy of Pig Pile for us to play and use for the purpose of being able to give an honest review. That game is the only compensation I received.