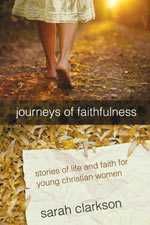 Recently, I received a beautiful devotional to review. Written by Sarah Clarkson, and published by
Apologia
,
Journeys of Faithfulness
presents "stories of life and faith for young Christian women". Since it's for,
ahem
, young women, and I passed that distinction some time ago, my eldest daughter who just turned 13 was the one to actually use it. The book is geared toward girls ages 12 and up.
Journeys of Faithfulness takes a look at the lives of Mary and Martha, Mary the mother of Jesus, Esther, and Ruth. Three chapters are devoted to each Biblical woman's story. Each chapter begins with a short account of the Biblical story that has been written as historical fiction (so all the Biblical story is there, but many other details such as what the characters were thinking or dialogue between people have been added to make the girls "come to life". After that, there is a devotional related to the story. Following the devotional is a Bible study with some scripture references for the girls to look up and some thought provoking questions related to those scriptures. The final component are journaling pages where girls can record their thoughts and what they have learned.
The pros: The first thing my daughter wrote in the journaling section was, "I love this book." That is a HUGE "pro" to me. Beyond that, I have to admit, I sneak the book and read it myself! I really enjoy the deeper, fuller look into the lives of these girls (even if it is speculation on the author's part), and the devotionals are very well written and I think they really speak to a girl's heart, or a woman's heart for that matter. The Bible study component takes this devotional up a notch and helps girls delve deeper into the Word for themselves and the questions asked are thought provoking (i.e. Regarding Jeremiah 3:19-25, it asks, "Why does the prophet have hope? Can you list new mercies in your life today?")
The cons: The only thing I would change is a little more direction for the journaling pages. They are provided, but no instruction is given regarding them, and I think younger girls could use some "prompts" to get their thought processes going. But I think the book is an amazing resource even if you never journal a word, so that really doesn't hinder its effectiveness-just something I would like to see if there are more of these to come.
The bottom line: This is a sweet and touching devotional designed to turn the heart(s) of your daughter(s) toward their Lord and King. It helps them see His total love for them and then learn to return that love back to Him in worship and obedience and in sharing the gospel. It's an honor to be able to recommend this book to anyone with young women who seek to draw closer to God.
You can purchase
Journeys of Faithfulness
for $13 directly from
Apologia's website
. To see what other members of the Schoolhouse Review Crew had to say, check out the
Review Crew blog
.
Legal Disclaimer: I received a hard copy of Journeys of Faithfulness for the purpose of giving my honest review. All opinions expressed are my own.