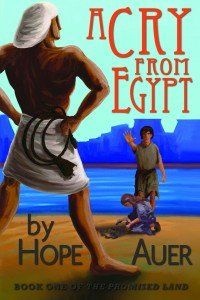 Being on the Schoolhouse Review Crew is always a blessing, but there are times when God has specifically used Crew reviews to answer prayer, and this was definitely one of them! :
A Cry From Egypt
is a Christian historical fiction book written by a recent homeschool graduate, Hope Auer, and published by Great Waters Press. The book tells the story a fictional Hebrew family
and of a young girl in that family, Jarah, as it covers the plight of the Israelites in slavery in Egypt. The work is hard, the days are long, the overseers are brutal, and the people are wondering if God remembers them. Then Moses appears on the scene, but initially his presence is less than welcome because his appeals to pharaoh result in more work and even harsher treatment. As more and more plagues occur, Jarah is convinced of Yahweh's power, but her mother and older sister become even more convinced that they are the ones who are correct in their belief in the Egyptian gods. Since Jarah's father and older brothers are firm believers in Yahweh, some real family tension ensues. Through the eyes of Jarah's friend's sister, who is the queen's personal maid, we are given a glimpse into the pharaoh's household and are able to experience the plagues both from the Egyptian and Hebrew point of view. The book is the first in
The Promised Land
series, and can be purchased from
Great Waters Press
for $12.50.
The pros: Remember how I said this was an answer to prayer? All of my children are doing ancient world history right now, but our local library and even our county library system do not carry any of "the usual" readers that are recommended to accompany those cultures. I had even begged my local friends, but none of them had the books I was looking for. Then,
A Cry From Egypt
arrived literally just before we got to Egypt in our history. The timing could not have been more perfect and was definitely "a God thing". The story is well told and had moments that brought me to tears. It gave my children a wonderful view of the what life was like just before and during the plagues. It also really made my children (and if I'm honest, me as well) think about the struggles the Hebrews faced and about the fact that some of them probably really wrestled with their faith. We are totally wrapped up in the story of Jarah and her family, and will definitely eagerly await the next book.
The cons: None. We enjoyed this book immensely!
The bottom line:
A Cry From Egypt
definitely is a worthy and vivid telling of the time of the Exodus. It's recommended for ages 8 and up, although my 7 year old has listened to it and did just fine. Some violence is portrayed, as would have been legitimately experienced by the Hebrews in captivity, but it is not gratuitous. It's so sad to see the pharaoh's heart harden and cause such calamity. It's also sad, but so real, to watch the spiritual struggle within Jarah's mom. It was eye opening to experience the literal ending of the plagues at the beginning of the land of Goshen, and to see that through the eyes of the amazed and relieved and moved and confused Israelites. I could go on and on, but the bottom line is that I'd wholeheartedly recommend
A Cry From Egypt
for anyone looking for a really well written Christian historical fiction book about the Exodus.
To order
A Cry From Egypt
, visit their website. To see what other members of the Crew thought, visit the
Schoolhouse Review Crew Blog
. Great Waters Press also provided some Crew Members with a different book to review called
Children in Church
, and you can read reviews for that book on the Crew blog too.
Legal Disclaimer: As a member of the Crew, I received a free copy of A Cry From Egypt for the purpose of giving my honest review. All opinions expressed are my own.