I'm in love. Completely, head-over-heels in love. With an internet meal plan service. That's the strange part, but it's completely true!
E-Mealz
offers you a mealtime makeover. They put together the shopping list, tailored to specific stores around the country or "any store" if you don't want to be penned in. Then they also give you a meal plan for a week's worth of dinner meals. As a bonus, the plan takes advantage of whatever specials the store you are signed up for is offering, so your weekly shopping trip feeds a family of 4-6 dinner for a week for about $75. Oh, and specialty menus are available for gluten free, low fat, low carb, portion control and vegetarian. Plus, if your family size is smaller, there is an option for 1-2 people to accommodate you. And it really is as easy as the steps below:
You can't really read it well, but this is a good example of that the meal print out looks like. The shopping list is the one behind the meal plan.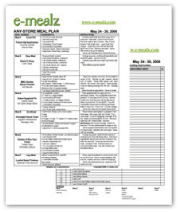 The pros: This is an answer to a prayer I never knew to say! Every week, I get a menu tailored to the specials at Publix, my store of choice. The food has been great. My kids have loved every single meal. And we have been eating more complete, well balanced meals. As a family of 6, I have to say I wondered if the meals would really be enough, but they are plentiful- in fact we usually have left-overs. In fact, between left-overs and a busy schedule, we never need all 7 meals, which has allowed me to skip over the meals I was not sure would go over as well in favor of the meals I knew we would enjoy and still have my entire week or meals planned out for me.
The cons: Okay, so shopping does take me a little longer since I find myself looking for things I don't buy regularly. Luckily, the folks at Publix are happy to help. And there is almost always one meal that I know we wouldn't enjoy-mostly because there are almost always meatless meals, and I'm not big on veggies. And I have found that I've made some substitutions. For example, I may not eat veggies, but I'd rather feed my family frozen green beans than canned green beans any day. And I've skipped out on the Cajun seasoning in two recipes in favor of something less spicy.
The bottom line: Dave Ramsey endorses this program, but more than that, my husband is so enamored with me having a dinner plan for every evening, he's willing to pay for E-Mealz forever. As a homeschooling mom, it takes a HUGE burden off me to have a dinner plan and homeschool 4 kids and attend to all our comings and goings. It's worth $1.25 a week to save at least that in eliminating the need for fast food on evenings when school ran long and post-dinner activities leave us without enough time for me to come up with a last minute plan. E-Mealz is $15 for 3 months. To learn more, you can go
HERE
. As for me, I'm going shopping off my newest E-Mealz menu!
To see what other members of the TOS Crew had to say, go
HERE
. Some of them reviewed other stores or specialty menus that might be of interest to you!
Legal Disclaimer: As a member of the TOS Crew, I received a FREE 3 month trial of E-Mealz. That trial is the only compensation I have received for this review.