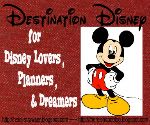 This week's theme for
Destination Disney
is the World Showcase at Epcot. Heidi laid out several questions, so I'll just jump right in and try to answer them!
What's your favorite thing about the World Showcase?
Ohhh, just one? I have always, always loved the World Showcase. I love the level of authenticity that went into the creation of each country- you really feel like you are there. I love how the cast members are from the countries they work in, and they are happy to share about their homeland. I love the FOOD! Yum!!! The Voices of Liberty rock, and I'm not just saying that because my pastor is singing with them now, ;-). Oh, and the new Kim Possible quests are the best thing they have ever done. They are very cool and they really get you exploring each pavilion. Oh, and you can't forget the gardens. All of Disney has wonderful gardens, but the World Showcase has the best of the best.
Do you have a favorite place to eat in the World Showcase?
My hands down favorite through the years has been Chefs de France. But all the restaurants in the WS are good.
A new feature at Chefs is having Remy come visit each table. He sang "Happy Birthday" to our birthday girl.
If you have kids, what do you do to make the World Showcase experience more fun/educational for them?
I used to work at Disney teaching educational programs, so my kids tire of me telling them all the educational things about Disney, LOL. But that being said, we really do enjoy the Kim Possible thing. It gets the kids poking around each pavilion and learning stuff about each country without them even realizing it.
Getting a clue for their quest at the Day of the Dead figure in Mexico
I also always let them go through the shops because the goods and merchandise of a country tell you a lot about the country itself- gnomes, rosemaling, and wool sweaters in Norway; Rice candy, Chinese zodiac, and jade figures in China- and the list goes on.
Mini sombreros in Mexico
I could go on and on. Even before kids, my husband and I used to go to the WS just to people watch; seeing people from all different nationalities interacting with other people from all over the world- it really is a small world after all.