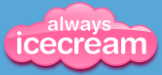 What's not to love about ice cream? Especially when it comes in the "form" of a girls only internet based educational site called
Always Icecream
?
Always Icecream is a website designed for learning and play for girls ages 7-12. Girls create an avatar, their "mini-me", which they can customize. This mini-me is their public "face" on the site. Parents have complete control over the level of actual "chat" interaction their children can have, with the highest level being reserved for "real world friends" (RWF). Your daughter gets a special code she can give to any RWFs that might also be site members. Both girls must enter each other's codes to enable them to have the greatest freedom in chatting. But the folks at Always Icecream take your child's security seriously, and virtually all communication is moderated before it is posted as is all media that is available on the site. Once you daughter gets started, she is encouraged to go through some basic game that make her familiar with the features of the site and allow her to begin accruing "$coops" which are the in-game currency. These "games" are almost all educational in nature, and include the option of Christian content as well. As you daughter plays the games, she learns, and she wants to play the games because it gives her $coops to buy stuff that she uses in "Mini-World" where she has a house complete with furniture and accessories that she can decorate and even sell to other players. Oh, and there is also a virtual pet component with pets that require upkeep like feeding, playtime, and love.
Above, you can see the "Find the States" game, and below is a screen from the typing game.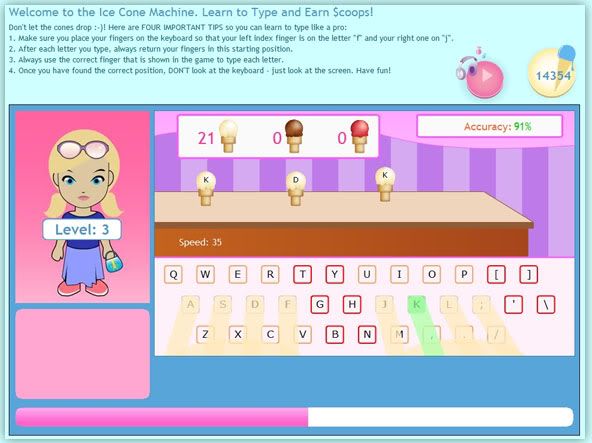 Here is an example of what the Pet World looks like. Each pet can be named by your daughter, and it's needs attended to via $coops OR by asking another player to "babysit" your pet.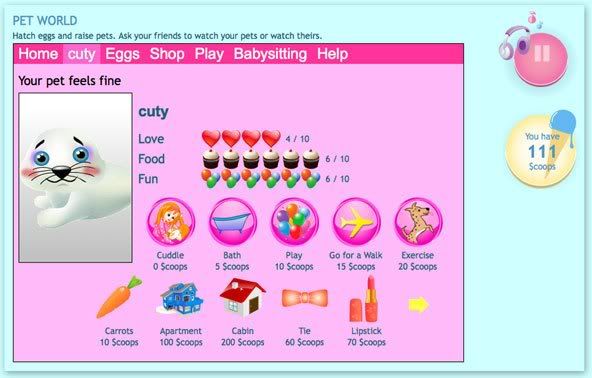 The pros: I love sooooo much about this site. It is the safest online site I have ever encountered. It's educational. Very educational. But the Mini-World area also allows for your daughter's creative side to shine. Aki, your in-game guide, is very helpful with prompts to get your daughter exploring the site and fully using all the options available to her. Beyond the games, there is a video area with videos that run the gamut from math quizzes to how to draw a cartoon cat, to Michelle Kwan winning in 2003, and everything in between. Parents get e-mail updates of their daughter's progress, and can view all the work she has done. You can also reward your daughter for real world performance by giving her some virtual $coops. But my favorite feature? The music for the site can be easily muted! I know, that seems petty to some of you, but I'm not big on noise, and I love that with one click the music is gone!
The cons: Well, it's not really a con, but when they say 7-12...they really mean it. My 6 year old tried a free membership, but most of the games, which is how you earn in-game spending money, were WAY beyond her. She's disappointed, but I'm glad to see a site that knows the target age and serves it well, even if my youngest daughter might have to wait a while for her chance to play.
The bottom line: You can check Always Icecream out for free yourself! Just click
HERE
. After your trial, Always Icecream is $4.99 a month, or $29.99 for a year....or buy a lifetime membership for $99.99. There is a whole section of info for parents
HERE
that can answer many of your questions and give you the chance to play some of the games for yourself. I appreciate that the site is designed by parents of girls who understand parents of girls, and I think you will too. My son is chomping at the bit for a BOY version of Always Icecream!
To see what other members of the TOS Crew had to say, go
HERE
.
Legal Disclaimer: As a member of the TOS Crew, I received one lifetime membership for my daughter. She is just turning 12, but she'll be playing this for some time to come I know! That is the only compensation I received for this review.