I have to confess, I never took Latin in school. And I never wanted to take Latin in school. But I did learn an awful lot of root words, and I also studied French for 5 years, so I would say I had a fair exposure to some of the Latin basics. But mention things like declensions, and that was all it took for me to run the other way...until now.
Visual Latin is the brain child of two homeschool dads-one a Latin teacher and the other a producer. So what you get is a professionally presented program totally designed for homeschoolers by homeschooling parents, and taught by a guy who really knows his stuff, which is way more than I can say for any attempt I would make at teaching Latin to my kids.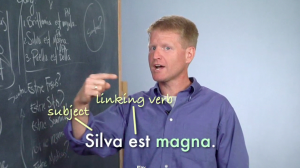 Visual Latin is available as a download or on DVD. Each lesson is broken into short video segments with corresponding worksheets. They begin with a grammar segment (which definitely helps reinforce English grammar too), then sentences, and then reading actual Latin. The program is Christian, and the worksheets support that. In fact many of the stories are taken from the Vulgate Bible, so they are familiar to the students, just presented in a different language. Visual Latin is comprised of 2 parts-Latin 1 and Latin 2, each intended to take one year to study. IT is geared for everyone ages 9 and up, and to count as a full year of high school credit, Visual Latin should be supplemented, and those recommendations can be found
HERE
. You can also go
HERE
to see the scope and sequence for Latin 1.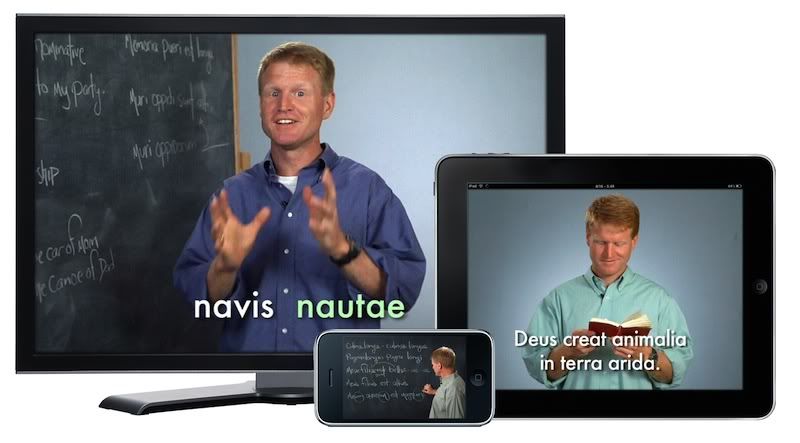 The pros: Someone else does the teaching of a language I don't know-do I need to say more? Plus, by the middle of the second lesson, my daughter was SPEAKING Latin. For real. And she wants to keep doing it. Plus, it has made her notice Latin words all around us. I love that each lesson is divided into shorter segments, and there are simple but effective worksheets that go with each one. And can I say again, I LOVE that someone else is teaching because I never took a minute of Latin in my life. And where I would be stressed out and questioning everything I was saying, he is witty and honest, and knows his stuff. And he makes mistakes and then corrects himself-he's a regular guy, not intimidating at all. Oh, and Visual Latin is portable-you can even do it on your "i" device!
The cons: My boys definitely didn't love it as much as their sister, although once she started walking around speaking Latin, my eldest took that as a challenge and began his lessons anew. He's the one who always wanted to study Latin, and I think he's going to stick with it now that his sister has made it a bit of a competition. My younger son has decided to sit Latin out for right now, but that's okay, because when he gets a little older, he can give it a try again.
The bottom line: You can check out the first 4 intro lessons and the first 2 full lessons for FREE yourself by going
HERE
. How can you not love that? But beyond that, I have to say this is the best Latin program we've ever looked at. At least, it's the one that has worked best for us, so that makes it the best because my daughter actually ASKS to do it-daily! The cost is $80 for the DVDs or $75 for the downloads- which are available to you forever. You can also buy Visual Latin to use in a small class setting. Click
HERE
for more pricing info. At this point, we plan to stick with Visual Latin for our family, and that's probably the best endorsement I can give!
To see what other members of the TOS Crew had to say, go
HERE
.
Legal Disclaimer: As a member of the TOS Crew, I received the first 10 lessons as a download for FREE. Those lessons were the only compensation I received for this review.