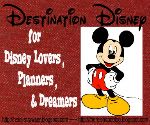 My friend Heidi over at
Reviews and Reflections
has chosen Character Meet and Greets as this week's
Destination Disney
theme. Here's what she has to say:
Share with us your favorite locations to meet the characters, your best experiences with the characters, and (of course) pictures with the characters! Also, if you have a list of characters that you'd like to meet, or you have special tips on where to find some of those more elusive characters, do share!
Boy, character meet and greets have come a LONG way at Disney in recent years. Many of the old "rules" about the characters are gone, and now, you can find characters almost all day long at published times and in fixed locations. I have to say, as a mom, I LOVE these changes! And you know what's coming next?
Wait for it...
wait for it...
FAST PASSES for character meet and greets. Really. At least that's what we were told at Magic Kingdom last time we were there. But on to Heidi's questions :-).
Our favorite locations for finding the characters varies, but I have to say that the Animation Tour at the Hollywood Studios is one of the best kept secrets. The lines are never very long, and the variety of characters is endless- everyone from Flynn Rider to Mary Poppins to Frozone.
Just behind the bathrooms at Space Mountain is a lesser known spot to catch different characters, and you can sometimes find them dancing in front of the stage in Tomorrowland. Buzz likes to hang out right there at the exit to his ride.
The alcove inside Innoventions to the right of Club Cool is a great place to see the Fab Five all in one fell swoop.
Sari and Minnie
Above is a rare picture- ME with a character. Somehow Goofy seemed appropriate for my sister and I
Oh, and Disney also has the BEST Santa visits ;-).
Below are random pictures from different park visits:
Lightning McQueen and Tow Mater at the Studios
Goofy and Pluto at Animal Kingdom-Dinoland. These two were the BEST character experience we have EVER had-so "in character" and playful!
Duffy at Epcot near the bridge to Mexico
That's it for now. I have a bunch more, but they are on my external hard drive and I'd have to track them down...and it's already past my bed time ;-).