Heidi at Reviews and Reflections has chosen the Flower and Garden Festival for this week's Destination Disney Meme. Check out her blog to see what other people had to say too!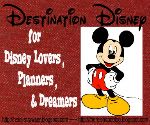 How do I love the Epcot Flower and Garden Festival? Let me count the ways!
First, let me say that on a normal day, no one does horticulture like Disney. But for the Flower and Garden Festival? There just is no comparison. All of Epcot is teeming with beautiful flowers, character topiaries, and speciality gardens. It's just beyond description.
Second, there are all sorts of learning stations set up where you can hear guest speakers talking on a variety of gardening topics. This year's line up includes many HGTV personalities :-).
Third, there are fun, special concerts by "oldies" groups included with the price of admission.
All in all, it's a must attend event. So much so, that last year I dragged my wretched body there even with walking pneumonia just to get some pictures. I got the privilege of bringing my "apprentice" Mimi with me, and she was a great help.
Enjoy!
All the above photos are the copyright of Snapshots of Grace Photography 2010. No image may legally be copied, printed, or otherwise used without my express written permission.