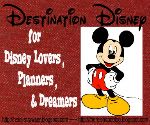 My friend Heidi at
RRR
hosts the Destination Disney Meme. She has been focusing on letters of the alphabet, and I've had the best intentions of participating, but haven't gotten around to it until now, and wouldn't you know it...I don't have many pictures for the letter D!
Here's Heidi's explanation:
As we move through the alphabet on our Destination Disney journey, we're ready for the Letter D this week.


D

Use the Letter D as your inspiration. Some starter ideas --- DinoLand USA, Disney dining, DisneyQuest, DiVine, Downtown Disney – and the list goes on and on and on (especially considering that this whole meme is inspired by the biggest D of all – Walt DISNEY!). . .

So go, get busy! Post those Letter D things on your blog (with pictures, if you can) – then come back here and link up! I'll link up my post too!
So, here are my thoughts on the letter D:
At the Magic Kingdom, we love the Dapper Dans. And we love them even more because our pastor Doug (really, how perfect is that for D week) is a sub with them. Come on, tell me you could resist the chance to take a picture of your tap dancing pastor??? (He's the one in light blue.)
At Epcot, the kids love to do the Kim Possible missions in the World Showcase. The one below took them to the Mexico pavilion where they learned about the Day of the Dead.
And we love the fountain with the Dancing Waters:
You couldn't do the letter D without a picture of Donald. While the picture below is of my youngest daughter, he is the first character I had MY picture taken with as a child, and I still have a Donald glass that I got at Disneyland as a child! And here's some trivia for you...Donald is the only one of the "Fab Five" to have a middle name...what is it? (Here's a clue...it will fit in with next week's DD theme.)
Here's the same daughter with our favorite Donkey...Eeyore!
And last but not least is this amazing Dragon that was in China for the Flower and Garden Festival. There was one animal for each sign in the Chinese Zodiac. I'm not sure if they are always there? I didn't remember seeing them before.
The first place we saw the new Doors on the trams was at Animal Kingdom.
And of course you have to mention Dinoland USA. Here's Mimi pretending to ride her dino as if it was a bucking bronco.
Oh, and you can't forget about Duffy (so forgive the hop back over to Epcot for this picture)...who doesn't love a bear that even a 13 year old boy will pose with!
At Hollywood Studios, on our last visit before our passes expired, we saw Fantasmic. It had been years since we'd seen it, and we had front row seats. All the Disney characters are in it...even the Dwarfs!
And in Animation, you can learn to draw different Disney characters. That evening, Donald was the one they were teaching. Here's TJ with his:
Below is a fun picture of TJ with Dinosaur Gertie :-)
At Downtown Disney, the kids really like to go to the World of Disney store and try on the hats. This is Mimi's friend with a Dwarf on her head.
Lastly, at the barn at Fort Wilderness, there is a horse named Dutch. We had the chance to take a field trip out there last year, and it was wonderful.
Anyway, those are just a few of the "D" things we enjoy at Disney. If you'd like to see some of the D things other people came up with, go
HERE
.