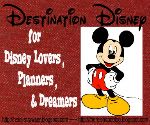 Heidi at
RRR
is continuing her alphabetical theme for Destination Disney. This week's letter is "E".
For as important as vowels are to our language, they aren't always easy when it comes to finding things that are Disney related that start with them :-) Here's what Heidi had to say:
Use the Letter E as your inspiration. Some starter ideas --- Epcot, Ellen's Energy Adventure, Electrical Water Pageant, ESPN Wide World of Sports, Expedition Everest – and the list goes on and on and on . . . E might sound like an intimidating letter, but I know you can come up with something for this week!
So go, get busy! Post those Letter E things on your blog (with pictures, if you can) – then come back here and link up! I'll link up my post too!
So here is what I've come up with so far:
Egret at AK
Eagle at AK
Everest
Excalibur
The ELP returns, complete with Elliot

Eland
Elephant
Eeyore's Gloomy Place
Two "E" boys (If you know the real me, then you understand). You really must click on the picture, my son's face is pretty hysterical. Waiting on Everest riders and having to watch a 5 year old eat ice cream while you have none because your mom is too mean to buy you some was causing him some teenage angst.